Rossignol ski features (technologies) fully explained
Born in the French Alps in 1907, Rossignol has built innovative technical winter equipment for more than 100 years. We're more obsessed about the performance of our products today. The mountains in which we live inspire us to create new concepts and new experiences. They push our products and technologies. We share the same love that you do for skiing, whether in the resort, the backcountry, the groomers, the trees, the park or the powder. We aim to build an incredible ski experience into all the products we make. Rossignol became a significant global ski brand by building some of the most compelling ski models in the sport throughout the last 100 years. Now, more than ever, skiers and retailers demand skis and boots that are both inspiring and of the highest quality. So, at Rossignol, we've refocused all of our resources to produce products that offer more quality and inspiration at every price. Our future is in our products....
Rossignol skis feature unique terminology that appears on each of our web pages.
In further detail these features are:
AMP TEK
Rossignol's unique ski design concept that combines traditional and reverse camber to deliver more versatility, rebound, boost and ease-of-use than conventional skis. The traditional camber underfoot delivers power, energy and edge grip under foot where you need it most. The reverse camber (aka rocker) at the tip and tail delivers more flotation, easier steering and more forgiveness.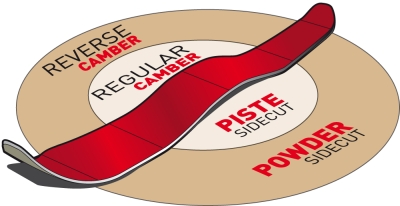 ARAMID BASALT

The Complex technology is a new aerospace fiber layer that replaces traditionally used fiberglass layers, the Basalt dramatically enhances the ski performance. By weaving Titanium or Aramide stringers into the Basalt fibers it raises the performance to a turbo-charging level. This new Complex layer has rock solid strength and higher elastic movement than even carbon fiber making it the ultimate material for removing vibration and improving snow contact. 
CENTERED SIDECUT

Rossignol's Centered Sidecut technology features a unique, tapering tip and tail with short side cut directly under the foot. The deep radius gives edge grip and power underfoot while the short length of the side cut allows easy steering and playfulness.
ECHO FOR LIFE
For us the mountains are a source of inspiration and fulfillment. So, we strive to reduce our carbon footprint to help maintain a healthy winter environment. This is why, following the introduction of ht first linen fibre ski, we've extended our "Echo for Life" program. Today, almost 20 percent of the women's skis we sell are "Echo for Life" models. NATURAL MATERIALS 10% of the skis fibers are natural linen, which takes less water to grow and has less of an environmental effect. The core uses a light poplar wood harvested by the factory from sustainable wood, grown in renewable tree farms.
CUTTING DOWN ON MATERIALS: 50% less inks used.
RECYCLED MATERIALS: Base made from 25% recycled material.
LOCAL PRODUCTION: Linen and Wood produced locally to decrease harmful transportation effect on environment.
CONTROLLED PRODUCTION TOOLS: Products manufactured in a factory with ISO14001 certification.
 IPS H CONCAVE
Independent Pressuring System IPS concept optimizes transmission of power applied by the boot to the individual right or left edge to boosts power and grip. The Concave Profile amplifies this technology with higher sidewalls to apply even greater pressure to the edge. The concave shape reduces the skis weight by 100gr per pair.
LINEN
An eco-friendly fibre composite layer under the top sheet reduces ski vibrations and improves snow contact.
MINI CAP SANDWICH
Ultra durable construction built with wood cores, 30 degree sidewalls, fiberglass and high-tech laminates. The Mini Cap ROSSITOP to strengthens the top of the ski and is resistant to chipping for increased durability. The sidewalls of the skis are angled at a 30° incline to improve swing weight, reduce the overall weight of the ski, and enhance edging and durability.
OVERSIZE SIDECUT
Oversize takes the benefits of the aggressive sidecuts of carving skis and combines it with modern waist widths. The aggressive oversized tip & tail dimensions produces strong edging, power and precision. The wider dimension of the waist increases stability and easy turn transition. Combining big sidecut with modern waist widths produces accurate edge feel and unprecedented stability.
POWER RAMP
Power ramp is a women's-specific interface engineered to raise the heel to help adapt to women skiers lower center of gravity. POWER TURN GROOMED - PRECISION - EDGE GRIP - CARVING - SPEED Rossignol's Power Turn is engineered with 100% traditional high camber underfoot. The high camber underfoot delivers power, energy, and edge grip for on-piste performance. The full length camber stores energy and provides explosive snap and boost.
POWDER TURN
POWDER - FLOATATION - ACCESSIBILITY - SLASHES - EFFORTLESS Rossignol's Powder Turn is engineered with 50% low camber underfoot while the remaining 50% of the tip and tail features high rocker. The camber underfoot delivers power, energy, and edge grip for groomed snow. The high rocker tip produces more floatation and effortless powder skiing. The high rockered tail is pin shaped to allow skier to have an efficient angle of attack providing easy steering and instant speed control. The 50/50 rocker/camber combination is the most versatile from pow to groomers.
SPOON TIP
The rockered tip is in the shape of a spoon for maximum floatation. The tip profile is tapered for effortless tracking in deep snow. TWIN PULSION INTEGRAL TPi2 : Twin Pulsion Integral A control beam combined with Twin interface. The tool free binding simply slides on the integrated TPI2 system for easy adjustment.
    Not answered here??
Contact: Dave
Telephone: 0401 202 906
Email: